About the Journal
Impact Factor 2022: 0.900 (Q3)
eISSN: 2521-9847, ISSN: 0128-1283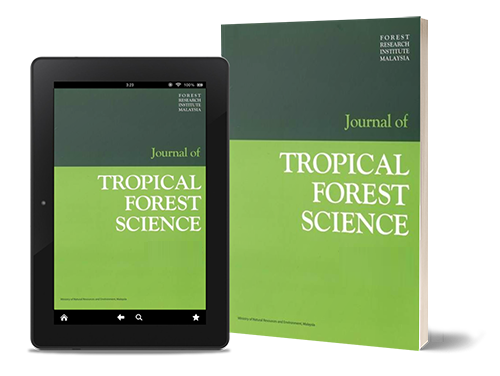 The Journal of Tropical Forest Science (JTFS) is an international reviewed journal concerning the science, technology and development of tropical forests and forest products. The journal welcomes articles reporting original fundamental or applied research on tropical forest biology, ecology, chemistry, management, silviculture, conservation, utilization and product development. The journal is published four times a year, i.e. January, April, July and October.
The website for Journal of Tropical Forest Science is only available in English language.
The Journal of Tropical Forest Science is indexed in:
Web of Science
Scopus
Elsevier
CABI
EBSCO
ProQuest
JSTOR
ASEAN CITATION INDEX
MYCITE
Copyright by the Forest Research Institute Malaysia (FRIM). All rights reserved. All materials appearing on the FRIM web server (www.frim.gov.my) may not be reproduced or stored in a retrieval system, for reasons other than personal and educational purposes, without prior written permission of the publisher.
The journal assumes no responsibility for the statements and opinions expressed by contributors.